The Best Restaurants in Dallas
The StarTripper Journal presents the best places to dine in Dallas, both international gourmet and good american choices.
Our team in Dallas are native born Americans. They love to travel, they love America and they love to introduce you to the best restaurants and hotels.

Dallas has one of the best art scenes in the US and the Arts District is in large part responsible for the city's reputation as an arts mecca, 19-block area of art heaven, comprised of museums, concert halls, churches and restaurants.

The Bishop Arts District, a two-block former warehouse area in South Dallas, or Oak Cliff, is home to some of Dallas' most sought-after restaurants and its funkiest boutique shopping, independent retailers and restaurateurs whose goal is to shop local, eat local and live local.

The Design District, located steps from Uptown and Oaklawn, with cutting edge art and antique galleries, design studios and luxury furnishing showrooms, and a burgeoning restaurant and nightlife scene, is one of the city's newest and liveliest neighbourhoods.

Deep Ellum, a former industrial area east of downtown, is the city's headquarters for live music, emerging visual and creative artists, known around town as the "birthplace of jazz and the blues". On a walk down Elm or Commerce Streets today you will hear everything from jazz to hip-hop and rock 'n' roll.

If you're looking for an area of Dallas that is completely unique and reminiscent more of other cities, Deep Ellum is the place for you.

The StarTripper Journal Recommends these Restaurants:
The French Room at The Adolphus is an architecturally delightful, romantic restaurant, a Louis XV fantasy on the prairie.
Under the direction of Chef Marcos Segovia, an inspired culinary team of internationally trained chefs create distinctive contemporary cosmopolitan French and American dishes from fresh seasonal ingredients that rival those served in the finest restaurants throughout the world.
We really loved the Tenderloin of Veal and the Colorado Rack of Lamb and the award-winning wine list.
This is the best restaurant in Dallas, the place for special Occasions, top Cuisine, top Service, top Hospitality, top everything.
The Mansion Restaurant at Rosewood Mansion on Turtle Creek, a legendary restaurant in the heart of Uptown Dallas, located in the heart of the most fashionable neighbourhood.
For those seeking romantic restaurants in Dallas, the Mansion Restaurant is intimate yet relaxed. A popular location for proposals, anniversaries and other special occasions, the ambience is enhanced by sleek furnishings and vibrant artwork. In the main dining room, modern lighting and honey-coloured walls contribute to the restaurant's charm.
Inspired by local producers, the restaurant's "haute cuisine, Texas style" has been shaped by regional flavours and ingredients. Chef Bruno Davaillon and his talented culinary team provides one of the most inviting, approachable and valuable dining experience in Dallas. Contemporary American cuisine with regional influences reveals the brilliance of simplicity, with an approach that involves choosing the freshest and finest ingredients and combining them to maximize flavour and texture.
Culinary excellence and exquisite service, this is the ultimate fine dining in a very romantic setting.
Poised atop the iconic Hilton Anatole and boasting unparalleled views of the Dallas skyline, SĒR offers a sophisticated and urban dining experience.
You'll be treated to bold, chef-driven cuisine featuring the finest steaks and chops, market-fresh seafood and provocative dishes, all paired with handcrafted cocktails and an extensive selection of expertly selected wines, an exciting new breed of steakhouse.
As beef-lovers we really loved Chef Anthony Van Camp's 45-day aged prime ribeye with tomato chutney, olive oil potatoes, and hollandaise, an exciting twist of an old classic.
SĒR is a bastion of beef with stellar service, tremendous cuisine from executive chef Anthony Van Camp, and, of course, a stunning view.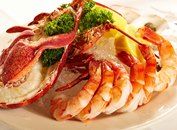 Located in Highland Park Village, a friendly "neighbourhood seafood and steak restaurant", a warm glow of dark mahogany, rich marble, etched glass and polished brass. The walls are adorned with art from the owner's collection.
An institution in fine dining for many years, Café Pacific embodies sophistication while remaining decidedly unpretentious. Chef Megan Babineau Potts presents food made with the finest quality ingredients, fresh seafood are flown in daily, prime beef from the Midwest and locally grown produce.
Wine is an integral part of the Café Pacific dining experience. Whether you choose from the nice by-the-glass list or a bottle you'll discover hidden gems throughout the list.
Cafe Pacific is complimentary valet parking, casual elegance, top cuisine, outstanding service from knowledgeable veteran staff, and sophistication without snobbery.
Tucked into a historic building in the Bishop Arts District, Lucia is a small, chef-owned Italian restaurant.
Chef David and wife Jennifer Uygur's menu adheres to the Italian approach --- antipasti, pasta/primi, main and dessert. The menu changes seasonally but usually has a risotto, gnocchi, seafood and game. Everything is made in-house, from the crusty Italian bread and the fresh pasta to the cured meats on his signature salami plate.
Uygur is creating food that is his own interpretation of the Italian cuisine. He cooks his meats and proteins slowly, braising until their flavour and texture become ripe and sultry. Last time we tried the Tajarin with brodo Parmigiano and grated black truffle and the Ricotta ravioli with black trumpet mushrooms. It was wonderful.
Walk into this restaurant and you feel happy, it is like an adventure. What surprises will the menu hold? What kind of journey will our palates take? Uygur's cooking is above all about deliciousness. Vision, artistry, technique and incredible talent, along with the warm hospitality make this restaurant truly extraordinary.